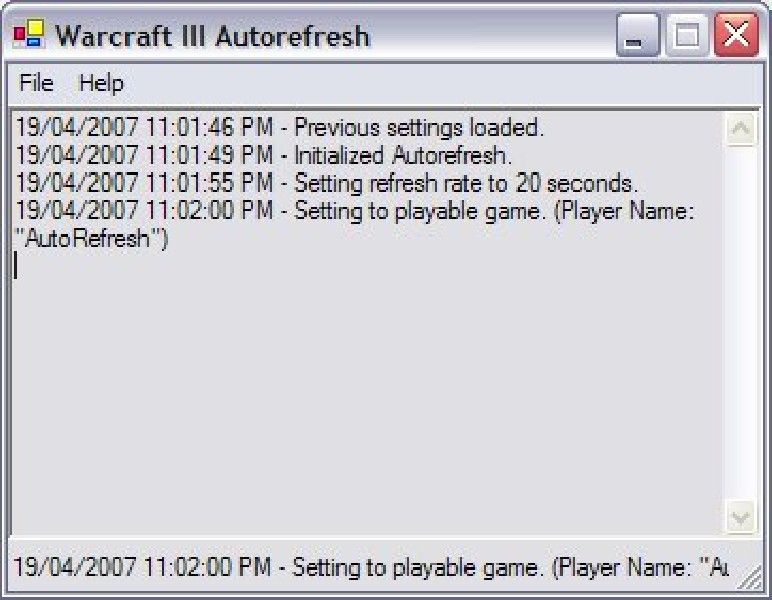 Uploaded: 05:04, 20th Apr 2007
Last Updated: 15:09, 15th Mar 2008
Operating System: Windows XP, Windows Vista, MacOS X Tiger, Linux, Windows 2000, Windows ME
Category: Gaming
Website:
What is Warcraft III AutoRefresh?
This is an application designed to automatically refresh the game you are currently hosting. Normally when you host a game, you would close all slots and open them to force your game to appear at the top of Battle.net's list of custom games. With this application, that process is done automatically.
Features
- Cross-platform, usable on Windows, Linux, and Mac.
- Automatically refresh your game.
- Set the rate at which your game is refreshed.
- Helps distribution of a map by assisting players in recognizing "Download Only" games.
- Customize the names and colors of the Autorefresh appearing in pre-game lobbies.
- Almost no CPU utilization, allowing you to keep your framerates up.
Requirements
Microsoft Windows 98/ME/2000/XP/Vista
Microsoft .NET Framework 1.1
--OR--
Linux (Any Distro)/MAC OS X
Mono Framework
Package Contents
- Warcraft III Autorefresh program
- C# Source Code
- General Public License (GPL) txt file
- readme.txt file
Download
Information from
Hive