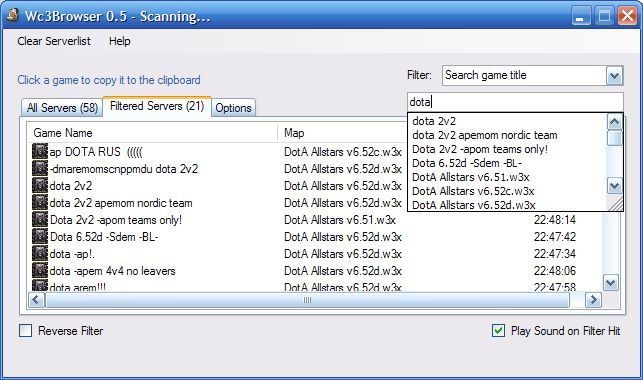 Uploaded: 23:06, 14th Sep 2007
Last Updated: 15:18, 4th Nov 2007
Operating System: Windows XP
Category: Gaming
Website:
Wc3Browser allows one to browse the poorly implemented, unfiltered, serverlist in Warcraft 3. This tool gives you the ability to filter servers to find interesting games. This version have only been tested on TFT but it probably works on original too. Please note that you have to view the custom-games screen in Wc3 (before tabbing out) for Wc3Browser to find any games.
Changelog
---------------------------------------
Wc3Browser Release 0.2
Copyright © E.Sandberg (Risc), 2007
This program is freeware.
You'll need WinPcap to run this, download latest version at http://www.winpcap.org.
Release 0.22
-Added a "Reverse Filter" option which will exclude all matches found in the filter instead of including them.
Release 0.21
-Fixed filter not updating timestamp correctly.
Release 0.2
-Added sound when filter-list updates.
-Added timestamp for servers.
-New icon.
Release 0.1
-Initial release
Download
Information from
Hive